"Soup stock without compromise"
  which favors handmade soba.
Zaru-dashi is soup stock that "get caught by soba" well
Kake-dashi is soup stock that "get sucked into soba".
In other words, we made dashi soup that tastes good by drinking.

Our soups uses dried bonito made by
Yaizu's "Katsuobushi Specialty Store Chikiri"
(Founded in 2nd year of Tenmei / 1782AD)
Both Zaru-dashi and Kake-dashi are made
with two types of Katsuobushi
(Arahonbushi and Honkarebushi),
which are the bases of the flavor.
Then the umami of Kelp and dried mackerel,
the sweetness of dried sea bream,
and the depth of grilled chin are added.
Everything is wrapped up as "soups"
with a mellow flavor that stands out.
Over the course of half a year,
the katsuobushi (Honkarebushi) are
carefully made.
By repeatedly applying mould and drying in the sun,
the moisture in the katsuobushi is removed,
and the fat content is decomposed.
Hence the umami is condensed,
and the richness and sweetness are brought out.
*The fat content brings a rough taste and a fishy smell.
Being particular about the type of mackerel.
Blue Mackerel is mainly used to make dried mackerel.
Just like Honkarebushi,
repeatedly applying mould and drying in the sun.
Kaeshi soup
Blend FARO dashi soup with soy souce,
Then by heating it up at 90℃ for 10 minutes,
edgy saltiness is removed to
achieve mellow flavour.
Please enjoy
the flavour and texture of soba
made of stone mill
ground buckwheat powder.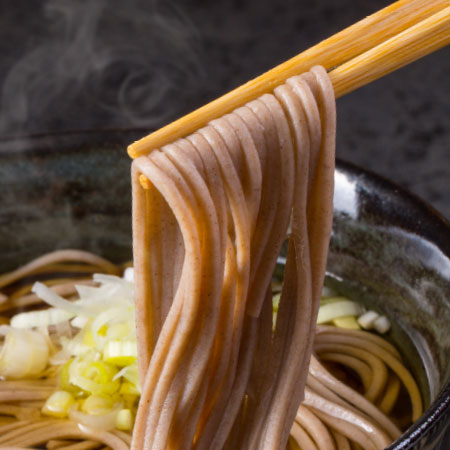 The soba served at FARO is nihachi soba,
made with buckwheat powder ground in a stone mill.
Daily practice of "Soba no Santate
(3 "straight-ups" of soba)",
which are
"Freshly ground, freshly kneaded and cut,
freshly boiled" is what FARO is being particular about.
Since it is stone milled,
flavor and texture is its speciality.
In order to let everyone enjoy soba noodles even more deliciously,
we have also devised a method to boil them.
Please enjoy the fragrance,
texture and sense of soba going through your throat.
Please enjoy drinks with
soba restaurant's dishes.
- Information -
Opening
Hours

11:00〜15:00(Last Order 14:30)
17:30〜23:00(Last Order[Food]22:00/[Drink]22:30)

Number of
seats

68seats*Reservations for groups are possible(up to 40people)

Private
room

4rooms(4~10people horigotatsu(kotatsu on the floor dug down)/table)